KITCHEN & BATHROOM REMODELING ARLINGTON, VA
Enjoy a beautiful, custom-designed kitchen
FEATURED IN
Bathroom and Kitchen Remodeling in Arlington, VA
Remodeling is an exciting process that turns your ideas into plans and your plans into reality. Especially in the kitchen and bathroom, remodeling not only upgrades and refreshes your home but serves to increase its value. With our bath and kitchen remodeling, we can create a unique to your home space. We'll use your current room layout and remodel a kitchen or bathroom designed with all of your needs in mind. Boss Design Center has all the remodeling tools you need to get the most out of your kitchen and bathroom. Use our three-step consultation, design and development services to ensure you get everything you wanted and more with your remodeling.
Kitchen Remodeling Arlington VA
Kitchens have a strong presence in a home. The kitchen is where meals are prepared, family dinners are eaten and the best messes in life are made. Your kitchen is important, you have to be able to use it to its best ability, and be able to put your style and design into it. During your consultation, we want to know certain things about your family. We will ask you questions like how many people are in it, how you use your kitchen now, and how you want to use it in the future. We want to find out what your needs are. That way we can help you create a beautiful, functional kitchen that you'll want to use over and over again. Choose from our wide array of wood options, cabinets, countertops and door styles. We'll work with you and your budget to make your kitchen dreams come true.
Bathroom Remodeling Arlington VA
Remodeling your bathroom can be an overwhelming task. Let us do the work for you. Tell us what you're looking for and talk with us during a consultation. Whatever you're looking for, we can help. Choose from many different shower doors and vanities to let your space reflect your style. We will create blueprints for any structural and plumbing changes we make while we design your bathroom with you. This is your home, let us help you make it into the home you've always wanted.
Using our kitchen and bathroom remodeling services, your home can get a great upgrade with customized design. We also offer design and cabinetry options for the rest of your house, from office areas and walk-in closets to laundry rooms. We have the means to fully redesign your home. Do you know what you want to change, but don't have any idea where to start? Let us help you. We work with you from consultation to installation, to help you turn your house into your dream home. Visit our showroom to get inspired and talk with our consultants, or browse through our virtual showroom.
We hired Boss Design to redo our master bathroom, and my word, they did an excellent job! The bathroom looks authentic yet magazine-worthy. Talha and the rest of the team were beyond exceptional, and their creativity and responsiveness are really to be admired. Thanks, guys!
Remodeling Coupon For Arlington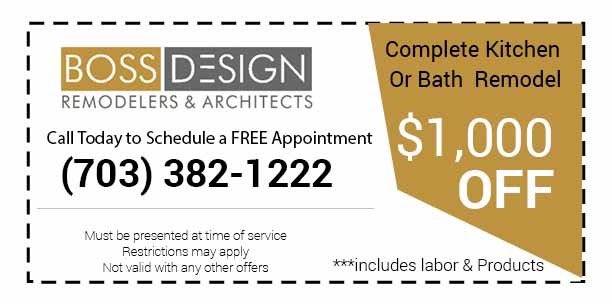 Visit Our Showroom
1389 Chain Bridge Rd.
McLean, VA 22101
Get Direction From Arlington VA
Service Areas in Fairfax
22202, 22209, 22203, 22201, 22205, 22211, 20301, 22207, 22213, 22204, 22206, 20330, 20310, 20350, 20318, 20380
Get inspired by our projects
Your Dreams
Delivered

in Details

We commit to quality craftsmanship, exceptional communication, and unique comprehensive designs.
Bathroom Design Ideas
.
Discover our collection of beautiful bathroom design ideas, styles, and modern color schemes, including thousands of bathroom photos that will inspire you. The purpose of your bathroom is simple but there is no limit to the decorative flourishes and amenities you can add to this important room.
KITCHEN REMODELING TIPS
Learn more about valuable tips and resources in our weekly Kitchen Remodeling Blog.