Professional Bathroom and Kitchen Remodeling Rockville MD
Achieving Your Home Renovation Goals with Boss Design Center
FEATURED IN
Kitchen, Bathroom and Home Addition Services in Rockville MD
Are you looking for a reliable Design and Build company that can provide bathroom remodeling, home addition services and kitchen remodeling in Rockville MD? Look no further than Boss Design Center. We offer comprehensive design and build services for residential projects of any size or complexity. Whether you are looking to completely remodel your kitchen, add a new bathroom, or expand the living space in your home with an additional room, our experienced team of professionals can help you create the perfect solution.
At Boss Design Center, we specialize in renovations that combine superb craftsmanship and high-quality materials to deliver lasting value. We start by discussing your vision for the project with you and then utilize our extensive knowledge to develop an efficient and effective plan. We are committed to providing personalized service and cost-effective solutions to ensure that your project is completed on time and within budget. We also guarantee all of our projects for one year, so you can have confidence knowing that your remodeling investment will stand the test of time.
Services: Kitchen Remodeling Rockville MD
Our kitchen remodeling services in Rockville MD include comprehensive design and build solutions that are tailored to meet your specific needs. Our team of professionals will work with you to develop a plan that incorporates custom cabinetry, countertops, appliances, lighting fixtures and more. We have years of experience in designing beautiful kitchens that bring out the best in any home and create a comfortable atmosphere that encourages family gatherings and entertaining.
Services: Bathroom Remodeling Rockville MD
Boss Design Center also specializes in bathroom remodeling Rockville MD. We offer exceptional design solutions to upgrade your existing space or completely transform it with custom showers, bathtubs, flooring, vanities, and more. Our team of experts will help you choose the perfect style and materials to match your personal tastes and make your bathroom into a luxurious space that also adds value to your home.
Services: Home Addition Services Rockville MD
Whether you want to add an extra bedroom, office space or an in-law suite, Boss Design Center's home addition services in Rockville MD will help make your dream a reality. We can provide complete design and build solutions that ensure the project is completed efficiently and within budget. Our team of professionals will work with you every step of the way to ensure that the addition is a seamless part of your home's design and fits within your lifestyle.
At Boss Design Center, we are dedicated to providing quality design and build services for all residential projects in Rockville MD. With our years of experience, personalized service, attention to detail and cost-consciousness, you can rest assured knowing that your project will be completed with the utmost care and precision. Contact us today to learn more about our kitchen, bathroom and home addition services in Rockville MD. We look forward to helping you create the home of your dreams.
We hired Boss Design to redo our master bathroom, and my word, they did an excellent job! The bathroom looks authentic yet magazine-worthy. Talha and the rest of the team were beyond exceptional, and their creativity and responsiveness are really to be admired. Thanks, guys!
Remodeling Coupon For Rockville MD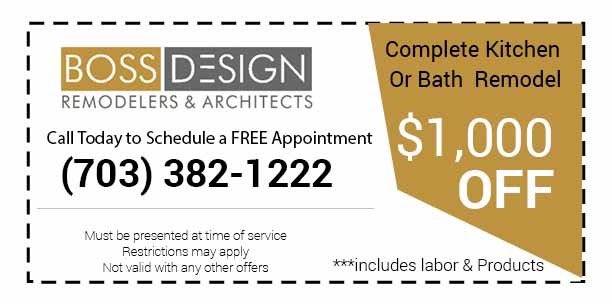 Visit Our Showroom
7220 Wisconsin Ave Suite 110,
Bethesda, MD 20814
Get Direction From Rockville MD
Service Areas in Rockville MD
20850, 20851, 20852, 20853
Get inspired by our projects
Your Dreams
Delivered

in Details

We commit to quality craftsmanship, exceptional communication, and unique comprehensive designs.
Bathroom Design Ideas
.
Discover our collection of beautiful bathroom design ideas, styles, and modern color schemes, including thousands of bathroom photos that will inspire you. The purpose of your bathroom is simple but there is no limit to the decorative flourishes and amenities you can add to this important room.
KITCHEN REMODELING TIPS
Learn more about valuable tips and resources in our weekly Kitchen Remodeling Blog.