Home Addition and Remodeling Maryland
Enjoy a beautiful, custom-designed kitchen, bathroom and Home Addition
FEATURED IN
Design and Build Company Serving Maryland
We are a full-service design and renovation company, serving the Maryland area. We're committed to getting your kitchen remodeling Maryland, basement finishing Maryland, bathroom remodeling Maryland, and home additions Maryland started and finished as quickly and smoothly as possible. Our team of expert renovators and remodelers are fully licensed, bonded, and insured, so you can rely on us for professionalism and quality results.
Services: Kitchen Remodeling Maryland
If you're like most home owners, you take pride in your kitchen remodeling in Maryland. After all, it's the center of family life and can often be the determining factor when selling or renting a home. When it comes to remodeling your kitchen, there are many benefits that come along with it. From improved aesthetics to increased functionality, remodeling your kitchen can have numerous rewards for Maryland homeowners.
Are you dreaming of a magnificent kitchen? The kitchen is the heart of your home and Boss Design Center can help bring your dream to life. As one of Maryland's leading remodeling companies, we offer our clients a full range of services that will make sure they get the kitchen they've always wanted. Our experienced professionals are knowledgeable in the latest trends and options on the market, so you can be sure your kitchen will be up to date and stylish.
Whether you're looking for a traditional look or modern edge, we have something for everyone. We understand every project is unique and offer customized solutions tailored to your individual needs. Our team of experts are more than happy to discuss your ideas and provide advice, so you can make the right decision for your home.
Once you've decided on a design, we'll get started. We offer complete kitchen remodeling services in Maryland from start to finish. From cabinets and countertops to plumbing and lighting, we take care of every detail. We will provide you with a detailed timeline and plan to make sure the project is completed on time and within your budget.
Services: Bathroom Remodeling Maryland
Are you looking for a reliable bathroom remodeling service in Maryland? Look no further than Boss Design Center! With over 10 years of experience, Boss Design Center is the premier choice for all your bathroom renovation needs. From custom design services to complete renovations, they have the expertise and knowledge to make sure your project is completed with the highest quality standards.
Services: Home Additions Maryland
We provide a comprehensive home additions in Maryland area. Our team of professional designers and craftsmen are here to help you plan, design, and build the perfect addition to your home. We specialize in creating unique spaces that fit your lifestyle while increasing the value of your property.
Our experienced team can help you with everything from designing the perfect layout for your home addition, to selecting high quality materials, to making sure that every detail is finished and that the job meets all safety requirements. We offer a range of services including custom cabinetry, carpentry, drywall installation, painting, flooring installation, and more.
At Boss Design Center, we are committed to delivering the highest quality workmanship and excellent customer service. We understand that remodeling your kitchen can be daunting but our experienced professionals will ensure a smooth process from start to finish. Let us help you make your dream kitchen come to life in Maryland. Contact us today to get started!
We hired Boss Design to redo our master bathroom, and my word, they did an excellent job! The bathroom looks authentic yet magazine-worthy. Talha and the rest of the team were beyond exceptional, and their creativity and responsiveness are really to be admired. Thanks, guys!
Remodeling Coupon For Maryland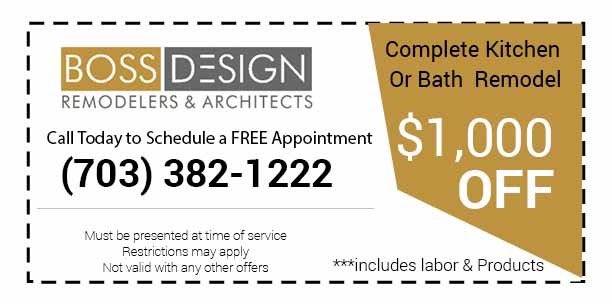 Visit Our Showroom
7220 Wisconsin Ave Suite 110,
Bethesda, MD 20814
Service Areas in Maryland
Chevy Chase Section Five, MD – Chevy Chase, MD – Chevy Chase Village, MD – Martins Additions, MD – Somerset, MD – Chevy Chase Section Three, MD – Chevy Chase View, MD – Highland, MD – Travilah, MD – North Chevy Chase, MD – Potomac, MD – Tall Timbers, MD – Broomes Island, MD – Brookmont, MD – Cabin John, MD – Fairwood, MD – Darnestown, MD – Woodmore, MD – North Potomac, MD – Poolesville, MD – Brookeville, MD– Bethesda, MD
Get inspired by our projects
Your Dreams
Delivered

in Details

We commit to quality craftsmanship, exceptional communication, and unique comprehensive designs.
Bathroom Design Ideas
.
Discover our collection of beautiful bathroom design ideas, styles, and modern color schemes, including thousands of bathroom photos that will inspire you. The purpose of your bathroom is simple but there is no limit to the decorative flourishes and amenities you can add to this important room.
KITCHEN REMODELING TIPS
Learn more about valuable tips and resources in our weekly Kitchen Remodeling Blog.