KITCHEN & BATHROOM REMODELING WASHINGTON DC
Enjoy a beautiful, custom-designed kitchen
FEATURED IN
Bathroom and Kitchen Remodeling in Washington, DC
A remodeled kitchen or bathroom can provide a homeowner with a whole host of benefits. For example, it can make the room that much more useful for the homeowner, whether by making it easier for them to entertain or by creating a more restful and relaxing environment. Furthermore, the increased use means that a home's value on the local real estate market shoots up as well, which can have important implications in the long run. As a result, homeowners might want to look into Washington DC kitchen remodeling as well as Washington DC bathroom remodeling, which can be provided to them by the capable experts at Boss Design Center.
Kitchen Remodeling Washington, DC
For a lot of families, their kitchen commands a central position in their thoughts of home. After all, it is not just a place where they make their meals but also a place where they will make some of their fondest memories. As a result, if you are one of these people, you deserve a remodeled kitchen that will be perfectly capable of meeting your particular needs and circumstances instead of just settling for whatever came with your house.
Of course, there is a wide range of possibilities when it comes to Washington DC kitchen remodeling. For example, you can provide you with beautiful kitchen countertops made using material as well as a style of your choosing. Likewise, we can do the same for your kitchen cabinets, which tend to have a subtle but nonetheless influential effect on their surroundings. Whatever it is that you are interested in, you can count on our expertise and experience to inform you about all of the possibilities that the latest trends provide you with, thus enabling you to choose what is best for you and your family.
Bathroom Remodeling Washington, DC
Likewise, whether you have a small bathroom or something much more luxurious, you can count on us to make it that much better by providing you with new baths, new cabinets, and new vanities. New systems offering new luxuries are being introduced on a regular basis, meaning that it would be a shame to miss out on the ways that your bathroom can be made that much more pleasant for you.
We hired Boss Design to redo our master bathroom, and my word, they did an excellent job! The bathroom looks authentic yet magazine-worthy. Talha and the rest of the team were beyond exceptional, and their creativity and responsiveness are really to be admired. Thanks, guys!
Remodeling Coupon For Washington, DC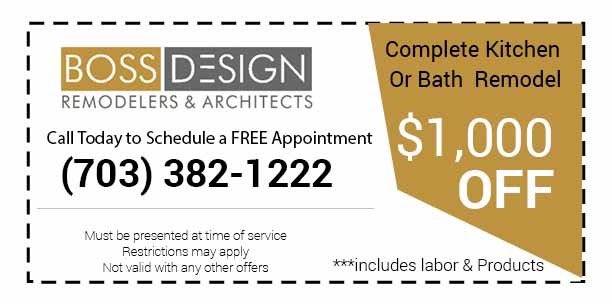 Visit Our Showroom
1389 Chain Bridge Rd.
McLean, VA 22101
Get Direction From Washington, DC
Service Areas in Washington, DC
20016, 20015, 20011, 20007, 20008, 20010, 20009,20036,20005,20057, 20307, 200012
Get inspired by our projects
Your Dreams
Delivered

in Details

We commit to quality craftsmanship, exceptional communication, and unique comprehensive designs.
Bathroom Design Ideas
.
Discover our collection of beautiful bathroom design ideas, styles, and modern color schemes, including thousands of bathroom photos that will inspire you. The purpose of your bathroom is simple but there is no limit to the decorative flourishes and amenities you can add to this important room.
KITCHEN REMODELING TIPS
Learn more about valuable tips and resources in our weekly Kitchen Remodeling Blog.